Click HERE to see the band through the years
It all started with a Furnace...
This was the band that started it all for Dick & Marcel. Started in 1969, Furnace played boys clubs, Ymca's and outdoor shows for 2 years. This picture was taken at Dick's 50th birthday party. It was the first time in over 30 years that Furnace took the stage together.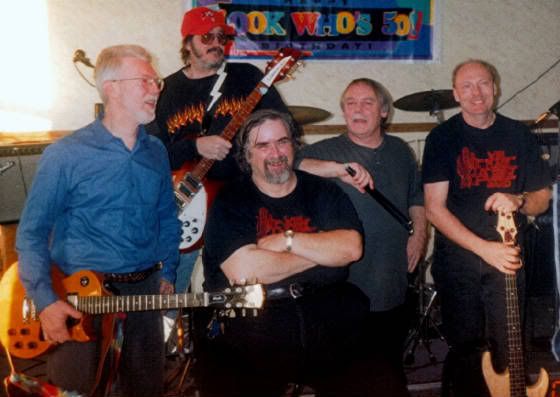 From left to right : Bill Hickman, Gerry Petrin, Dick Winn, Ray Lamontange and Marcel Proulx.
Lead Vocalist Dick Winn established the Win Place & Show Band in the early 70's. The band has survived many personnel changes through the years and is still going strong to this day! Marcel Proulx has been a longtime member of the band on Bass Guitar and was there in the beginning. In July of 1999, Mark Rich joined the band on Drums. In April 2005 the band added the very popular Mikey G, formerly of the "Shadow Creek Band", on Lead Guitar and Vocals. In August 2010 the band added the versatile Dave Russell on Lead Guitar and Vocals to complete the current lineup of the Win Place & Show Band.